3 Smelly Signs You Need Sewer Drain Cleaning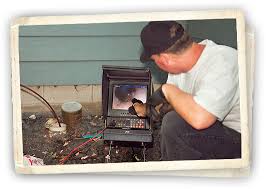 A smelly drain is not a welcome guest in your home. Kitchen and bathroom drain odors can be the result of many different situations such as food stuck in the kitchen sink or a clog in a shower drain or toilet. There are other types of smelly problems, too, though. These problems may be the direct result of something wrong with your sewer line. Here are 3 signs that you may need to call a plumber for sewer drain cleaning in Carlsbad.
Are all your toilets and sinks experiencing clogs? While one drain may give you a hard time every now and then, it's not typical for every drain to be affected. In a case like this, it's a good bet that the main line is clogged and needs to be inspected and cleaned.
When you empty the kitchen sink, do your toilets gurgle? This is another sign that there's an issue in the sewer line. Call a plumber right away.
Is raw sewage backing up in the drains throughout your home? This is a serious situation. Raw sewage should never be present in the home. It's a health hazard and can even lead to sewer gas buildup, which can be deadly. Don't mess around when raw sewage is present in your home or in your yard.
Call a 24 Hour Plumber for Emergency Sewer Repair
Sometimes, all that is needed is sewer drain cleaning using powerful, state-of-the-art equipment. In other instances, the plan of attack may require something else such as trenchless sewer pipe repair and replacement. If you're concerned about sewer line problems, call us today and we'll send one of our talented, knowledgeable, and licensed plumbers to your home to analyze the situation.
These kinds of problems do not solve themselves. Wishful thinking won't make them go away, but power plumbing solutions will. Call Carlsbad Ace Plumbing for the best sewer drain cleaning in Carlsbad, CA, today.