Signs Your Plumbing System Needs Sewer Line Repair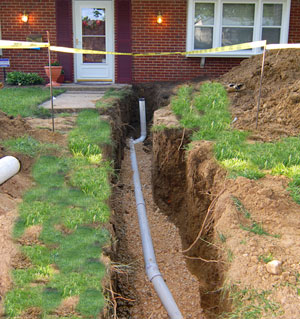 Recognizing the warning signs of a serious plumbing problem is a great way to maintain the safety of your home and property. If you know when to call a professional plumber for a sewer line repair in your home, then you can start working on a solution before your system is crippled by a serious problem. If you do find yourself facing any kind of plumbing issue, you can rely on Carlsbad Ace Plumbing to deliver fast, affordable and effective solutions.
Common Symptoms of Sewer Trouble
1. Mildew and Mold: If the basement or other room in the home has been particularly musty lately, then there may be an unseen problem with some of the pipes connecting your drains to the main sewer line. Even small water leaks can foster exponential growth of mold and mildew, which thrives inside walls and under floors.
2. Low Toilet Water Level: While many toilet problems are caused by a malfunction of the mechanism inside the fixture itself, sometimes they are the result of a clog or other issue with the connecting sewer lines. Keep an eye on toilet bowls to make sure they are filling all the way up after each flush.
3. Poor Drain Performance: If you find yourself stepping into a pool of tepid water whenever you take a shower, then there could be a partial obstruction that is decreasing the efficiency of your drains. It's best to deal with clogs quickly, even small ones, as leaving them alone can create a much bigger problem down the road.
4. Sewer Smell: If you smell a foul odor in your home or elsewhere on your property, then it could mean that there is a significant leak in the line connecting your home to the septic or city sewer system. Sewer leaks can create a significant health hazard for humans and animals, so don't hesitate to call a licensed and insured plumber to troubleshoot your plumbing.
Work with Professional Plumbers for Dependable Results
As a licensed and insured contractor, Carlsbad Ace Plumbing is fully equipped and certified to help local homeowners in Carlsbad with sewer line repairs, troubleshooting and other maintenance projects. We also offer 24/7 emergency services, so you can rely on us to come to the rescue on late nights and weekends.